01 Jun

How to build social media programs with confidence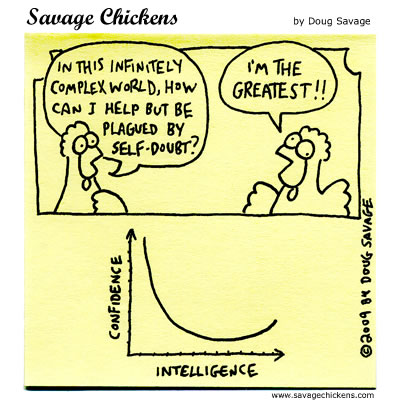 While most marketers recognize the importance of social media, many say they don't understand it enough to integrate it correctly into their marketing strategies — and, those who say they understand it lack experience.
Most marketers lack confidence in social media. According to a recent study, 86 percent of marketers recognize Social Media as an ongoing trend, but lack the knowledge needed to effectively implement tactics. The 2009 study by McCann Erickson UK also found that two thirds of marketers admit that they do not have adequate knowledge on how to use social media correctly in marketing. Although the survey was conducted in the UK, there's no reason to believe that results from US marketers would be significantly different.
Most marketers with confidence in social media lack experience. Given that social media is the result of emerging technologies, its not surprising that marketers are widely inexperienced. According to a 2009 study by MarketingSherpa, marketers that show confidence are typically overconfident. The survey found that two-thirds of marketers who work for organizations THAT HAVE NOT USED ANY FORM OF SOCIAL MEDIA consider themselves 'very knowledgeable' or 'somewhat knowledgeable' about this emerging strategy. Overconfidence leads to failure.
"Clearly, there is a disconnect between personal exposure and professional ability that is unique to social media," the MarketingSherpa study remarks. "This disconnect is one of the most critical dangers to the successful adoption of social media as a marketing strategy." To mitigate risks, the study recommends that companies seek an outside agency or consultant to implement social media initiatives. I disagree.
An outside agency (although helpful) isn't required. Outside thinking is.
Find a Proven Social Media Process
Thankfully, outside thinking is plentiful and widely published. Several proven processes exist for implementing effective social media programs. My company chose the Groundswell approach, created by Josh Bernoff and Charlene Lee of Forrester. It's not the only social media process out there — but I'll use it as my first example.
Groundswell's process is characterized by POST, an acronym that stands for People, Objectives, Strategy and Technology. The four step process goes like this: 1) People – access your customer's social activities; 2) Objectives – decide what you want to accomplish; 3) Strategy – plan how relationships with customers will change; and 4) decide which technologies to use.
When it comes to defining objectives, Groundswell identifies five key areas that relate to traditional company roles:
Listening (research) to gain insights;
Talking (marketing) via blogs and communities;
Energizing (sales) to excite customers;
Supporting (support) to empower peer-to-peer assistance; and
Embracing (development) feedback to fuel product development.
If you select this process, the Groundswell book becomes your process manual. Each of the above objectives in detail within the Groundswell book.
An alternative process provided by Age of Engage Author Denise Shiffman is founded on six V's: Venture – the deep integration of product, services and channel distribution; Value – Creating inherent "marketingness"; Voice – The perception created by vision and story; Verification – Developing credibility through proof, truth and transparency; Vicinity – Harnessing communities of the Live Web; and Vehicle – Incorporating Web 2.0 (and beyond) strategies. Shiffman's process includes similar objectives: openness, sharing, collaborating and interacting.
You get the idea, though. There are many processes to consider. They're all very similar. They all have subtle differences. Find one that's right for you and your organization. (When you do, share the process below, so others can consider it too.)
Define Social Media Programs using Business Objectives
Social media objectives are business objectives. As such, they need to be developed with input from leadership and stakeholders throughout your organization. Interview the stakeholders and identify common problems/opportunities where social media may be appropriate. Group all of the ideas, suggestions and objectives to create ongoing social media programs. Then, identify goals and tactics for each program using social media objectives.
Example Scenario: The Scoopville ice cream company has a business goal of introducing five unique, but popular (high selling) flavors per year. This objective could be met (in whole or in part ) using social media. Assuming that the Groundswell process is in use, the program might look something like this in spreadsheet format.
| | | |
| --- | --- | --- |
| PROGRAMS | INTRODUCE FIVE INNOVATIVE AND POPULAR FLAVORS PER FISCAL YEAR | INCREASE SALES OF ICE CREAM FLAVORS DURING WINTER MONTHS BY 10 PERCENT |
| Listen | What ice cream flavors are people discussing or celebrating online? What are they buying? | |
| Talk | Ask customers to rank existing flavors and list their favorite combinations | |
| Energize | Allow customers to suggest flavors | |
| Support | create a voting system that allows people discuss and rank submissions | |
| Embrace | Release popular flavors with wide distribution. | |
For each social media objective (row) you can identify appropriate high-level strategies and tactics for each program (column).
Programs, Not Projects
Long-term relationships don't start with short-term campaigns. This is why social media initiatives are ongoing and iterative. It's best NOT to think of initiatives in terms of projects (doing so implies a start date and end date). Think of them as ONGOING programs.
The long-term strategies for each program can be managed in 30-45 day sprints (time intervals) using an agile-inspired management process (scrum). At the beginning of each sprint interval (for each program) the team should determine "What identified tasks/tactics can we deploy in the next 30 days to advance the program in the best way?"
This allows your social media team to make continuous program improvements. Using 30-45 day sprints allows teams to implement tasks quickly in social network environments — and adapt quickly when tactics fail, new opportunities arise, and shifts occur in technology.
Social media isn't about campaigns, it's about movements. This is why a long-term programmatic view is essential AND why shorter time frames are key for implementing social media tactics.
Trouble in Scoopville
A simple story that illustrates the forces shaping social media.

Troy Janisch, Publisher of
Social Meteor
, is a digital marketing professional and social media enthusiast. Previous projects? Until 2009, he was publisher of the Business Owner's Toolkit and host of it's nationally-syndicated radioshow of the same name.
The opinions expressed herein or statements made in the above column are solely those of the author, and do not necessarily reflect the views of Wisconsin Technology Network, LLC.
WTN accepts no legal liability or responsibility for any claims made or opinions expressed herein.